SOS Pets of Ouachita was the winner and received funds from the organization '100 Who Care' November 12th at Flying Tiger Brewery.  For more details about this organization, please visit their website and consider joining!

SOS Pets of Ouachita was to be the recipient of a portion of the proceeds from Roma's Italian Bistro on January 10, 2019.  Patrons enjoyed a meal while assisting SOS Pets in raising money for a new shelter! 
​
​

SOS Pets of Ouachita attended  DOMO Rivermarket as part of Geeks Along the River on November 17th.  We hosted the pet cosplay costume contest and found a home for a puppy!  It was a great day and thanks to all who participated in the contest and thank you to those who stopped by our tent!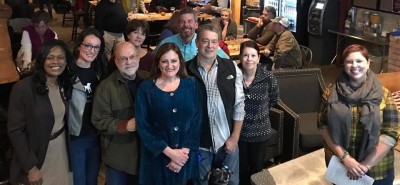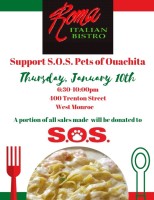 Members from the BOD of SOS Pets of Ouachita were at the Holiday Inn Express in West Monroe on November 27th.  Thank you so much to Southern Escape Rooms for hosting 'ESCAPE!' and donating the proceeds to SOS Pets.